Happy Wednesday y'all! If you are looking for What I Wore Wednesday...it's over
here
! If you are looking to get to know a super amazing Mama, one that I totally adore, then you are in the right place. Michelle from The Momma Bird is here and she has come bearing gifts!
Well HELLLLOOOO Munchie's Mama readers!!!
How the heck are you?!
Let me tell you what, today is a pretty exciting day -
WHY?
Because of THAT adorableness!
No. That's not entirely why.
Because of my little cutie that thinks being naked is completely a-okay at all times.
Well, not completely the reason why either.
The real kicker is just because I just launched my very own blog *re*design today!
I know. Crazy times.
When Summer asked me to do a give away swap with her I was super pumped. She has been such great encourager and really supported me in this new business. It was HER idea to have me do a give away for you guys! Yeah, you can thank her later :)
Anyway, I wanted you all to really feel the love in the LOVE month SO....
I am going to give away any design element of your choice!
Blog Header, Social Media Icons, Blog Buttons
Whatever your little heart desires!
Thank you Summer for having me! I think I need to get on your blog more often.
It's so happy and cheerful over here :)
Thanks again and please come say hello!!
Thanks so much Michelle for offering this awesome prize! Who couldn't use a little blog design update?! I am using Raffelcopter for the first time so all the info you need to enter is right below! The giveaway will close next Tuesday at midnight and I will pick a winner next Wednesday, Feb. 8th.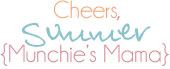 a Rafflecopter giveaway