So, there are those times as an adult that a light bulb goes off in your head and suddenly you remember something from your childhood. I talked about the time something my mom used to tell us finally clicked for me HERE. Well, today it was something my Dad did when we were younger that came to mind.
My brother and I are only 13 months apart and one of our past times as children was hiding the TV remotes so that when we watched TV the person who knew where they were hidden would have all mighty control. It was all fun and games .... that is until Dad got home. Most of you don't know my Dad, but just so you know, he may be the world's most intimidating man on the planet. He is scary in the quietest way. He never yelled, he never spanked, but he put the fear of God into you just by his presence. Man I wish I had gotten that trait!!!
You can probably guess that he was not very fond of our "hide the remote" competition. When we heard the distinct "chug" of his truck pull in the drive after work we would run to the living room to reveal our hiding place and put the remotes back where they belonged...most of the time. The LAST time we forgot to put them back he came up with the most genius of ideas!
He found the fattest, heaviest handled cutting board money could buy. Kinda like this guy.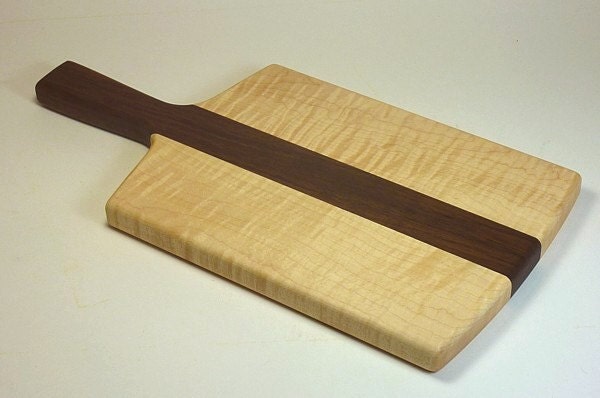 But 3 times thicker. He put felt on one side so as to not scratch the coffee table (naturally, he thought of everything. He never does anything half way) and Velcro on the other. People he velcroed the remotes to the paddle!!! Guess what happened when the remotes went missing off the paddle!!! What purpose could a paddle serve in disciplining your children...hmmm? Give up!? Yep, you got spanked with the paddle. Guess what? Problem solved, they never went missing again.
Fast forward about 20 years. Last I remembered the remote was on the side table in the living room and the kids were watching cartoons. Finally it was time for some "mommy TV time" and the Bachelor was waiting for me to watch him date some crazy train wrecks and the remote is no where to be found. I turned every couch cushion, lifted the couch like superman, scoured the entertainment center and no remote. I was getting so frustrated and then the image of that paddle with green felt popped into my head. I got it!
Well played Dad! Going on my shopping list for my next trip out: the scariest, thickest cutting board money could by. I finally found the remote in a pile of toys and I lost 2 hours watching drama that can only be created by 25 women convinced that their next husband will be found on a reality TV show while he is dating 25 other women. It was glorious! What is going to be even more glorious??? My awesome new remote paddle!