Do you ever run into products and think to yourself, "Why didn't I think of that?!"? Me too. That is pretty much how I felt when I saw the Giraffe Bath & Body Wand for Shaving. It's pure genius. I am only bummed that I found it after I had Kennie. This would have been a life saver while pregnant.
The Giraffe wand is designed to extend your natural reach to make your daily shaving routine easier. You can have smooth, silky legs without the worry of reaching difficult spots or slipping in the tub or shower.
It's to easy to use and have so many brilliant features! It comes with 2 razor attachments that work with most popular razors and even comes with a FREE travel bag that you can use as packaging for a quick and easy gift.
The head of the wand extends and pivots to make saving easier, saving you time and effort. It's perfect for the last trimester of pregnancy or when injury or back pain prevent you from easily bending.
Seriously, how stoked would you be if you received this at your baby shower?! I enjoy using it even though I am no longer pregnant. No more shower yoga to get my legs smooth and silky.
Keep in touch with Giraffe through their social media:
GIVEAWAY (closed)!!!
I am super excited to be able to give one away to one of you lucky ladies!
Use the links above to "like" Giraffe's Facebook page and follow Giraffe on Pinterest.
Then comment below to claim your entry.
Make sure to comment separately for your facebook entry and pinterest entry.
Leave your email address in your comment so I can contact you if you win.
I'll announce a winner on Monday! Good Luck!

Congratulations Ashley Suzanne, please email me to claim your prize.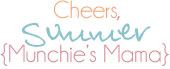 Disclosure: This is a sponsored post. All thoughts and opinions are my own. MBMM may have received payment, trade and/or products in exchange for promoting.